Brian makes a new friend... on the slopes
After skiing now for several years, it strikes me as unfair that men seem to have no fear of speed or pitch when skiing, whereas women are far more cautious. I'm not sure why this is, but obviously men don't fear death and injury as much as women do. Testosterone perhaps?
So, it came as no surprise that Brian adapted to speed very, very well. But as anyone who has skied knows, taking off is one thing, but stopping is another. And the first thing one should learn is how to stay in control on the slopes.
A couple of weeks after our weekend away to Wolf Mountain and Powder Mountain, we skied the beautiful Deer Valley, Utah. Deer Valley is one of Utah's two skier's only mountain (the other one being Alta). This means that there are NO snowboarders!!! (I've probably lost any snowboarding readers in one fell swoop). DV is a beautiful mountain and was voted No.1 Ski Resort in North America for 4 years running. It has some great runs and fabulous restaurants, such as Stein Eriksen, and après ski bars (St. Regis). Also, for any Australians visiting, the Silver Lake Lodge coffee bar will do a "flat white"!
Everything was going swimmingly for Brian and me until we dismounted the Silver Strike Express lift. Our plan was to ski a lovely long green run called Ontario. Normally, a skier would get off Silver Strike, go left and then slowly and carefully, to avoid other skiers getting off other lifts, ski down to your right. There is a bend so it's best to go slowly…which I did, but not Brian.
Brian took off fast and disappeared around the bend. And upon my slow and careful arrival, it was a scene that took some time to comprehend. I'm not sure if you've ever seen something that doesn't look quite right – maybe a naked person in the middle of a busy city street, or the driver of a dog groomers van get out, open the back door of the van and beat the dogs while screaming a them to shut up (which really happened by the way), but it takes a little while for the scene to sink in. So this is what I saw:
Some poor beginner skier in a blue jacket was snow-ploughing (wedge/pizza), and Brian had come up right behind him. Brian's skis slid on the outside of the beginner's skiers skis and Brian's chest was up against the beginner skier's back. Obviously, the beginner skier was not able to turn around to see what was happening, so the two of them (Brian also in a blue jacket), took off down the trail together! As if this wasn't bad enough, SHOCK HORROR, Brian put his arms around the poor unsuspecting chap's waist and they continued in tandem!
Here is a picture to better explain (please forgive the stick figure, but my artistic skills are horrible!):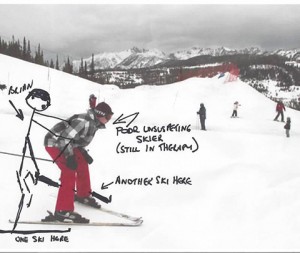 The whole event probably only lasted about 10 seconds, but it seemed to me (and probably to them) that it lasted hours! Eventually, they both fell in a heap, and I skied up to the poor beginner skier, who I believe is still in therapy, and asked if he was alright. He wasn't happy, let me tell you. Oh, and as for Brian, well after recovering from his embarrassment, we laughed the whole way home in the car until we cried.
Brian had made a new friend…indeed!